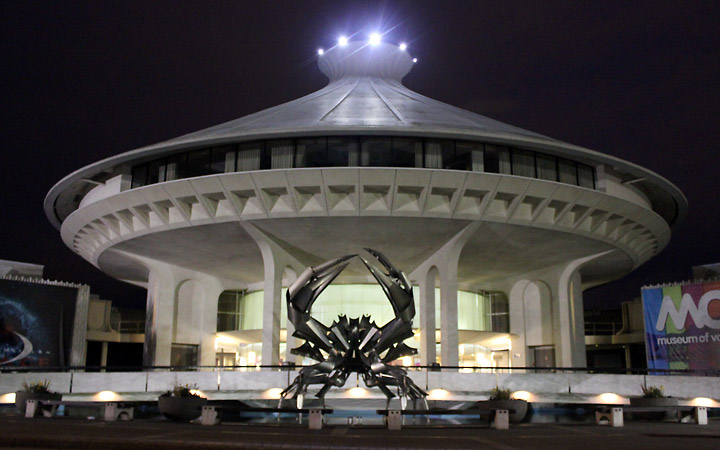 What:
Museum of Vancouver
www.museumofvancouver.ca
When:
Tuesday – Sunday, 10am-5pm;
Thursday til 8pm
Where:
1100 Chestnut Street,
Vancouver, BC Canada V6J 3J9
The Museum of Vancouver has 2 exhibits: one of the past of Vancouver and one of the future. The experience is reflective and heart-felt. All those times perusing through another country's museums, glistening on the frost of someone else's cake, it's finally time to sit down and reflect on Vancouver as a city.
I would like to dedicate this post to thank Marjorie for reading. Also, thanks to JF for inviting me to explore with you.
Historic Vancouver
Of the two exhibits, I find myself immersed in the historic exhibit, especially the area dedicated to Chinese Canadian history.
Note that there is history on Indo-Canadians, and Native-Canadians, too; I don't have photos of them.
I'm drawn to a Wedding Cake Box because the Chinese characters, Hong Kong Restaurant, are imprinted on it. It's interesting how many of us Cantonese-speaking first- or second-generation Vancouverites feel connected to Hong Kong. We don't even know if the people of Hong Kong are aware of our existence– us "foreigners" who walk slow, talk slow, but feel deeply involved in the gossips of Hong Kong celebrities and politics.
They must though, right? Why else would I hear a foreigner refer to us as "Hongcouver"? (True story.)
People a hundred years ago ran errands just like we do (not trying to be sarcastic here). The fact that I'm fascinated makes me wonder how disconnected I've been. With television and the Internet, everything is accessible. Everything is a search query away, and yet feels impersonal.
What is history telling us?
The Future
Woodward's is a funny one– a department store that existed during my childhood, of which I have no recollection of, and have since vanished. Its legacy seems to live on, like a deceased great grandparent we all respect but have never truly known.
Progress
It's interesting to see what could've been and how we've rejected all those ideas off the grid over the years.
When I came back to Vancouver after a year of absence last year, I thought, Nothing much has changed.
The reality is Vancouver has changed: more high-rises, more cafés, more people buying increasingly expensive condos, more immigrants, more refugees, more ways to be a green city, more people using the term "no-fun city" to describe Vancouver, more people taking up hikes, vegetarianism, veganism, gluten- and sugar-free diets, more talk of startup businesses, kickstarter projects, Netflix originals,…
What more proof do we want?
Here is progress; whether we're ready to see and accept these changes, that is the question.
Tough times.