Starting off with crumpets for brunch and ending with a delicious seafood claypot, I take Lillian on a tour in Melbourne CBD. This trip plan starts around 10:30am and ends about 7pm. Time is allotted for sleeping in.
This post is dedicated to Beastie, her beef, and AliG because they'll be missing out come December.
Suggested pace: allegretto, a little lively, moderately fast
Hop on a train to Melbourne Central Railway Station. Check out the Coop's Shot Tower & Museum. Admire the clock across from it as this is a common meeting point (picture not included). On the hour, the clock opens up at the bottom, and figurines / birds descend and plays lovely music. The small museum is accessible up the half set of escalators, inside a clothing store.
Exit Melbourne Central and take the tram north towards Carlton, have breakfast at Seven Seeds Café. They have multiple locations but this is the only one I've been to so far. There are entrances at the front and back, both are somewhat obscure. (All the more fun when you find it?)
After breakfast, walk to Queen Victoria Market, where you get baked goods, fresh produce, and souvenirs – stuffed koala bears and wombats, keychains, and things that don't have much purpose but are made in China and look like Australia. (See previous post on Queen Victoria Market for more photos.)
Take the tram back to Melbourne Central. You can walk back too, but you'll want to take the tram because there will be walking. Walk south along Swanston Street. You pass by the State Library, and a frenzy of people – probably students because it's midday Monday and RMIT (Royal Melbourne Institute of Technology University) is about a block away.
You will find gates marking the 3 x 2-block district of Chinatown. There's not a whole lot to see, mostly restaurants. About a block and a half in, you will see the Sun-Yat-Sen statue on your left. The Chinese Museum is located past the statue. I haven't perused its exhibitions yet. There is an $8 admission fee, so maybe I'll save that for a rainy day.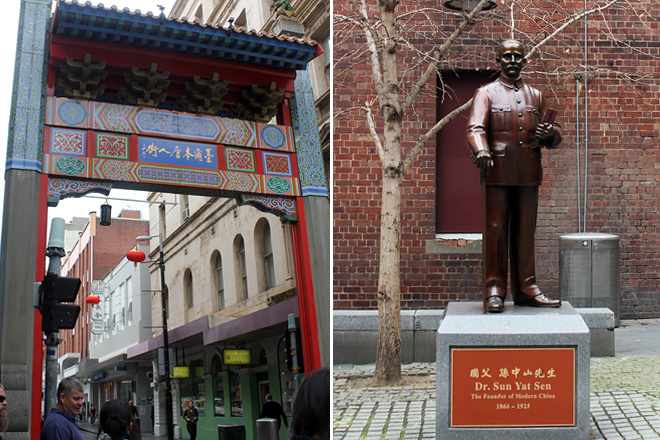 Head back to Swanston and continue south until Bourke Street, turn right. There are 2 heritage shopping arcades worth checking out: Royal Arcade and Block Arcade. (I wrote about Block Arcade on my post on Open House Melbourne.)
From here, head to Flinders Street Station and take photos of the station, of the City Circle trams, of the Yarra trams, of the people, or all of them at once. Across from Flinders Street Station is Fed Square (Federation Square) where exciting activities and events are held and where people gather for demonstrations, etc.
Another great place for photos is Hosier Lane, a laneway famous for its street art. It is located across from Fed Square, diagonal from Flinders St Station.
By now, your legs will ask you for a break, so you hop on the City Circle tram (they're the vintage-looking trams that are either green or burgundy red). This is a free service for tourists and runs around the CBD (ie. Central Business District, "The City", downtown) for an hour or so. They play an automated audio track showcasing attractions and routes you can take to further explore Melbourne. I highly recommend this. You'll pass by the Parliament, Docklands, while learning that over 200 different nationalities / cultures inhabit this place called Melbourne.
Once you return after a full circle, you head towards South Bank. To get there, you can cut through Flinders Street Station using the subways. Take a stroll along the Yarra River. Crown Casino is located at the west end of South Bank. I'm not crazy about casinos and not sure why this would be an attraction, but casinos tend to have nice washrooms, so this would be a good pit stop. Every evening on the hour, there is a fire show of fireballs released from 8 gas brigades. It's actually quite nice. See their schedule for start times.
On Spencer Street, take the tram towards St Kilda Beach. Shop along Aclands Street; there are many small boutiques and cafés. Enjoy a coffee at 95 espresso. Remember to order coffees according to your preference – cappuccino / flat white / long black (Americano) – the baristas will look just as confused as you are if you order a "regular coffee".
With a coffee on one hand, you are energized. You pass by Luna Park, a small amusement park by the beach. You continue towards the end of the harbour and enjoy the sunset. You hear an interesting purring sound, and then see a small group of people muttering about. You see what the kerfuffle is about and see little penguins!
To end off a great day of exploration, you head to Barkly Street and feed your grumbling stomachs at Claypot Seafood Restaurant. There is limited vegetarian option, but at least they have one (picture of veggie pot not included). :)
To sum up the day as Navidad (my Peruvian tourguide) would put it, "Easy peasy, lemon squeezy."