Perth Day 2: Island of Quokkas
Rottnest, named "Rotte nest" by the Dutch sea captain Willem de Vlamingh in 1696, which means… wait for it… "rat's nest". Hey! So I am right about Island of Quokkas.
Now would be a good time to infatuate you with a cute quokka photo:
This post is dedicated to AO & Haruka. AO, next time you go to Perth, you must visit this island! Haruka, see caption below.

Cycling around the island
Sometimes I miss telling important information. Like, yes, I take the ferry to Rottnest Island. It is half-priced Tuesday (booked in advanced online), with Rottnest Express! I hire a bike with them too, but not snorkel ($60AUD includes bike hire). Cycling is plenty of excitement for me already. It feels so liberating, so fast. The island is very protected, no private or rental cars are allowed.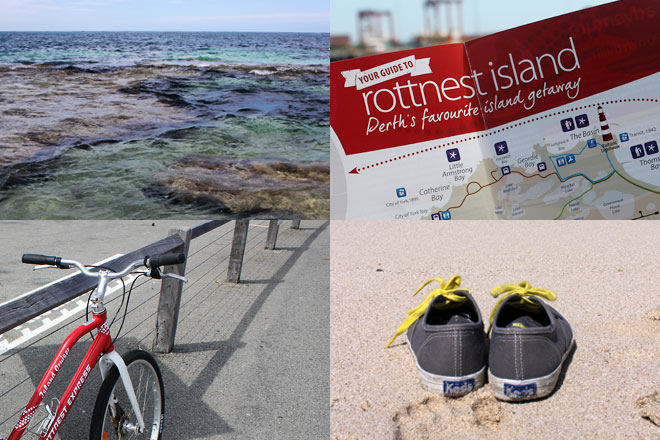 Rottnest is my favourite destination
Rottnest is my favourite destination in Australia so far. Even including the 2.5 weeks with the hooligans (which I will post about 2 months from now if I'm lucky), this solitary trip is one of a kind. It surpasses Wilson's Prom, the Great Barrier Reef, Mornington Peninsula, and Bondi Beach. But Tasmania, will you impress me?
This is why:
I made a measly $3 donation to Wikipedia, since I quote off them frequently. If you like my posts, I'm sure Wiki will appreciate the temporary shuffling of monetary funds. By shuffling I mean we eventually earn the money back one way or another. Why not?
I hope you enjoyed Rottnest Island as much as I did. Peace!