This post is dedicated to Jess and Anna, my Kiwi colleagues in Australia. My first impressions of Kiwis are from them – friendly and accommodating!
Bad Luck or Good?
April 2. My Melbourne flight diverts to Auckland due to heavy fog in Christchurch. I am going to miss my bus to Lake Tekapo. With the infrequent schedule of the intercity buses, I may have to stay a night in Christchurch, possibly skip Lake Tekapo, and go to my next destination, Queenstown.
What a way to start my New Zealand journey, but… (yes there is a 'but' because it's the magical world of New Zealand!)… fortunately, I am able to use my greatest asset to catch a free ride to Lake Tekapo.
My greatest asset? A bag of barbecue flavoured chips! Okay, that is probably not why the kind Kiwi man and his British girlfriend drove me all the way to Lake Tekapo, but it sure makes a good story, doesn't it?
With our flight delayed, we have extra time to kill. So we chat a bit, I offer him chips for breakfast (it is ~6am), tell him I'm heading to Lake Tekapo and find out he's going to Queenstown with his girlfriend. (Lake Tekapo is halfway between Christchurch and Queenstown). Then at some point, I am discussing on Whatsapp with my sister whether I should ask for a lift, he offers me a ride. I shamelessly accept.
Lake Tekapo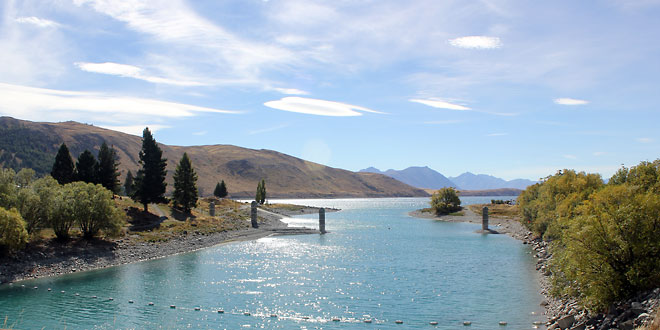 Funny Pronunciation:
During my travels, I meet a German traveller who pronounces Lake Tekapo, "take a poo". I try hard not to laugh and I don't know how to correct him. I think it's more like "TE-kuhp-o". Correct me if I'm wrong.
Queenstown
If I am to choose the most beautiful Kiwi city I've been to, Queenstown would probably be it. (The Fiordland National Park is better, but it's not really considered a city, is it?)
Up next:
Milford Sound, Fiordland National Park: A Majestic Journey
Fox Glacier & Punakaiki: Natural Phenomena
Wellington & Tongariro Crossing: Mt Doom & Chocolate Milk
Rotorua & Maori Experience:  Thermal Spas & Cookers
Hobbiton: The Magical Movie Set
Auckland: Crater City

Or if you missed the comparison: Australia vs New Zealand.