Fiordland National Park: A Majestic Journey
Milford Sound is one of those places where whether you go on a stormy day or good, you will still see something marvellous. On a stormy day, you may see waterfalls flying upwards. On a good day, you will see plenty of waterfalls. Our day starts out grey, but turns out sunny. We see no disappearing waterfalls (as some call it), but we do see a spectrum of waterfalls.
My photos don't do it justice.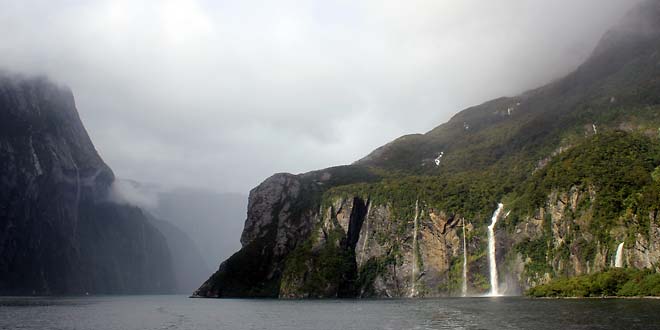 The best part of this day trip isn't Milford Sound. It is the bus journey back. The scenery is amazing –the mountains, the sun rays bouncing back from it. It makes me feel like I won the jackpot – I'm surrounded with an indescribable richness.
Up Next is Fox Glacier & Punakaiki: Natural Phenomena
Or if you missed my previous post about my bad luck, read Lake Tekapo & Queenstown: Serene Lake Towns.